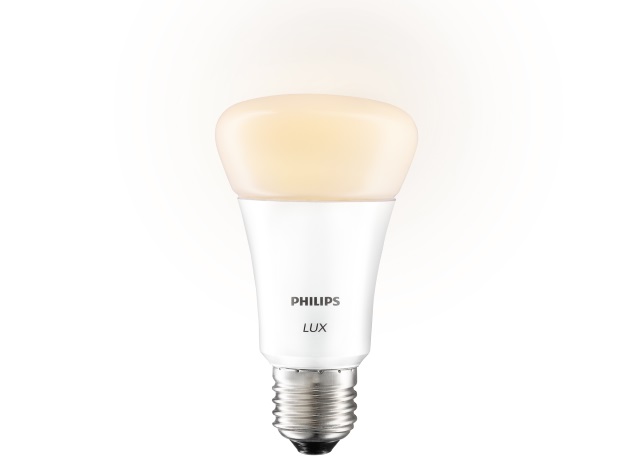 Following the astronomic success of the original
H
u
e
lamps,
Philips
lighting have created

H

u

e

Lux. These new white only bulbs emit fully dimmable warm white light and have all the functionality of the original
H
u
e
lamps.
These lamps have been designed to produce a welcoming warm white light which can be dimmed to suit your mood or occasion. The can be controlled via the
H
u
e
app which is available on most smartphones.
A spokesperson for

Philips

explains: "
H
u
e
Lux is a snap to set up and use and the bulbs fit right into your current light fittings or luminaires. Choose a starter pack or add to it with a single bulb.
Philips
H
u
e
Lux provides a personal and interactive way to control lighting from a smart mobile device or tablet. It enables use of light in a variety of functionality such as timers, alarms, geo-fencing and soft security elements.
Wait for the three LEDs on the bridge to light up. Download the free
H
u
e
app to your iOS device and connect your device to the bridge. Find your bulbs. Name them. And start controlling your lights. You can add up to 50 bulbs to your systems"
Here's what's new:
iOS:
Added improved support for

H

u

e

Lux lights, our new white only bulbs

Added a showcase of 3rd party apps we like

Numerous UI improvements including

Merged Light Control and Light Overview into a single Lights menu option (iPhone/iPod only)

Improved responsiveness of scene recall and enabled background scene blurring for all devices

The photos on the Scenes dashboard have been given a new more modern look

Improved interaction for scene creation and editing

Bug fixes and stability improvements
Android:
Added improved support for

H

u

e

Lux lights, our new white only bulbs

Added a showcase of 3rd party apps we like

Numerous UI improvements including

Improved Light Control

The photos on the Scenes dashboard have been given a new more modern look

Improved interaction for scene creation and editing

Bug fixes and stability improvements
To order your very own
H
u
e
starter pack or for more information on this or any other LED lighting product call 0118 950 7125 or visit www.theledspecialist.co.uk