The Smart Phone Controlled Wifi lamp is getting more and more popular with more brands getting their version out on the market. Here at The Led Specialist, we are liking the new addition to the competition.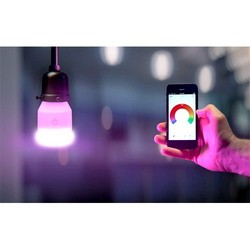 The LIFX is a wifi enabled, multi-coloured, energy efficient LED lamp that you can control using your smartphone. This new lamp has come to be through the new and fashionable way of raising funds for startup busin
esses, crowdfunding. Using the Kickstarter site LIFX raised $1.3m in only six days. It soon became clear that there was real demand for this product in the market. Since being on Kickstarter, LIFX has received a lot of media attention and has been highlighted in such newspapers as the New York Times, Washington Post and The Economist amongst others. It is now being regarded as one of the best new smart home devices and is extremely
desirable
.
Inventor, Phil Bosua and his passionate team of developers, engineers, markerting and customer support staff aim to deliver the top of the class in the smart bulb experience and it certainly looks like LIFX is a contender to outshine the others. The team claim that ' LIFX is like going from black and white television to full-colour HD' with a whopping '16 million colours at your fingertips.' It is impressive without a doubt.
Aswell as the ability to change the colour of your lamps to what seems like every imaginable colour, a simple app update will allow you to wake up naturally each morning with an automatically increasing light and help ease you into blissful sleep with a feature that slowly dims. In addition to the aesthetic and holistic advantages of this lamp, it is also amazingly simple to install; available in traditional bayonet (BC) and edison screw (ES) caps, LIFX can be installed into existing fittings with no need to hire an electrician. LIFX also has a lifetime of up to 40,000 hours, which means if it is in use for 4 hours a day, it will last you a staggering 27 years!