Philips'

latest lighting innovation will soon be available to purchase directly from The LED Specialist.
H

u

e

is much more than just a lamp, it is a home LED lighting system with its very own app.
H
u
e
allows you to change the tone, contrast and colour of the lamps to create your ideal lighting mood using your smart phone or tablet.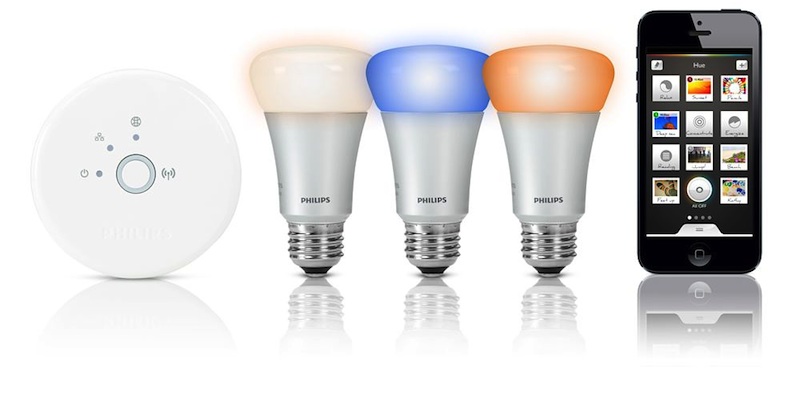 H
u
e
lamps can be purchased individually or as part of the

Philips
H
u
e
Starter Pack. The starter pack contains three lamps and a bridge which connects the lighting system to you wireless router. Once you have screwed in the lamps and connected the bridge all that's left to do is download the
H
u
e
app. The
H
u
e
app is available from the Apple app store, it allows you to control the lamps wherever you want, whenever you want. You can play around with the tone, contrast and colour creating a multitude of different lighting moods.
H
u
e
lamps are compatible with most sockets; they use 80% less power than a traditional incandescent lamp. You can connect up to 50
H
u
e
lamps to a single system however

Philips

recommends that three lamps can sufficiently illuminate a room. Each lamp delivers 600 lumens and emits all shades of white as well as a rainbow of bright colours.
Using the colour picker on your smart device,
H
u
e
can help you relive your happiest memories. Simply chose a photo and use the colour picker to select the colour you want your lamps to emit and voila!
H
u
e
offers a range of different pre-set lighting recipes including the concentrate recipe which is designed to keep you focused and alert for longer. There is also the relax recipe, perfect for when you want to unwind after a hard day at the office, this sets light to a yellow-white tone which has been scientifically proven to have a calming effect.
You can tune dime and control
H
u
e
from anywhere. You'll never come home to dark empty house whilst
H
u
e
's around, simply set the lights to come on in your preferred shade just before you return home. You can also set timers to help you gradually wake up in the mornings and set them to change with the pace of your day.
For more information about
H
u
e
or to purchase your very own starter pack call our office today 0118 950 7125